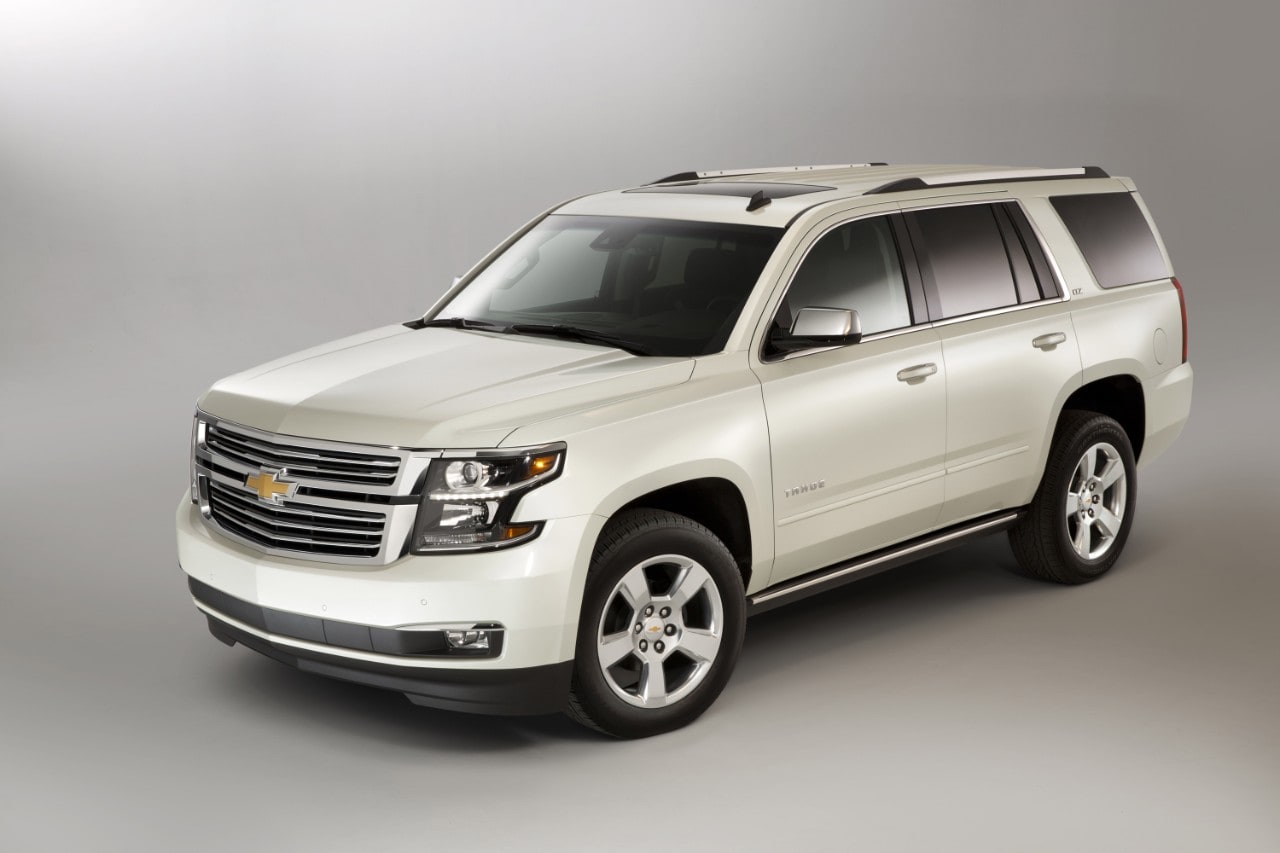 The
all-new 2015 Chevrolet Tahoe
comes equipped with new design and functionality features, presenting McHenry County drivers an easier way to stay connected in the vehicle.
The 2015 Tahoe offers innovative audio and visual features that help motorists to stay completely connected on the road. Passengers can communicate without facing each other with the conversation mirror in the overhead console that provides a panoramic view of the rear seats.
"The 2015 Chevrolet Tahoe raises the bar in design and functionality," said Dixie Gilmore of Gary Lang Chevrolet. "McHenry-area drivers who decide to purchase the new Tahoe can stay connected with people in and out of the vehicle with the advanced functionality features."
The exterior designs of the 2015 Tahoe are more refined and precisely sculpted. New inlaid doors fit into the body side openings instead of over the top of the body, significantly improving the quietness of the interior cabin and contributing to improved aerodynamics - an attribute that helps the vehicles slip through the air on the highway with less drag for greater efficiency.
Projector-beam headlamps flank the Chevrolet-signature dual-port grille - chrome on all models - and sweep into the front fenders.
Inside, premium materials and enhanced ergonomics demonstrate the Tahoe's blend of sophistication, craftsmanship and function. A new instrument panel houses an available eight-inch color touch screen radio with a secured storage bin behind the motorized screen.
The spacious design features include approximately two inches greater legroom for second-row passengers with an easier entry and exit. The all-new Tahoe is equipped with fold-flat second- and third-row seats, with an available power-folding feature to enhance cargo convenience.
The SUV comes in three different models - the LS, LT and LTZ - each offering different design and functionality features to meet consumers' needs. The LS provides projector-beam headlamps, 18-inch aluminum wheels a rear vision camera and rear park assist.
The LT carries the same features as the LS, however includes leather-appointed first- and second-row seats, heated front bucket seats with memory and a power liftgate with programmable height.
The LTZ's confident design includes high-intensity discharge headlamps, LED daytime running lamps, foglamps, a memory power-tilt and telescoping steering column, power-release second-row and power-fold third-row seats and 20-inch wheels.
Performance
The Tahoe is EPA-estimated at 16 mpg in the city and 23 mpg on the highway (2WD) - a nearly 10-percent increase in highway mileage over the previous models and 7-percent greater city mileage
The 2015 Chevrolet Tahoe's standard 5.3L V-8 engine, rated at 355 horsepower (265 kW) and 383 lb.-ft. of torque (519 Nm), features state-of-the-art technologies including direct injection, cylinder deactivation, continuously variable valve timing and an advanced combustion system, all designed to make the most of power, torque and efficiency across a broad range of operating conditions.
Improved engine mounts, electronic throttle control, adaptive exhaust systems, improved aerodynamics and other technologies help the engine operate in four-cylinder mode longer with Active Fuel Management, further increasing efficiency.
A Hydra-Matic 6L80 six-speed automatic transmission is paired with the new 5.3L engine and contributes to efficiency with reduced engine speed on the highway. It also features TapShift control, Tow/Haul mode and Auto Grade Braking.
Advanced combustion system
At the heart of the new EcoTec3 engine family is an advanced combustion system that maximizes the potential of the direct fuel injection system, cylinder deactivation, continuously variable valve timing and other technologies to ensure a strong balance between on-demand performance and real-world efficiency.
The ability to more precisely control combustion also enables the new engine to run with a higher compression ratio, one of the best ways to simultaneously increase power and efficiency.
This increased efficiency can now be maintained over a broader range of operating conditions. For example, when towing a trailer on a steep grade on a hot day, the advanced combustion system can reduce the need to trim back spark advance to control detonation, helping maintain efficiency with confident performance.
Direct injection and Active Fuel Management
The 5.3L's direct fuel injection system precisely meters fuel directly into the cylinders, helping optimize combustion over a broad range of conditions. An all-new cylinder head design supports the fuel system and it's complemented by a new, sculpted piston head developed to direct the injector's fuel spray for better mixing and more complete combustion.
To further enhance combustion, the intake and exhaust valve positions have been switched from the previous Small Block engine design, and the spark plug angle has been revised to move the electrode now closer to the center of the chamber to support optimal combustion.
In certain light-load driving conditions, half of the 5.3L's injectors quit spraying fuel, effectively turning the engine into a V-4 to help increase efficiency. This cylinder deactivation technology, also known as Active Fuel Management, is standard and uses oil pressure, controlled by the powertrain control module, to deactivate the lifters on selected cylinders, closes the valves for those cylinders, and seamlessly reactivates the cylinders when the driver demands greater power. The transition takes less than 20 milliseconds and is virtually imperceptible.
Additional features on the EcoTec3 5.3L include:
Weight-saving aluminum engine block

Efficiency-enhancing oiling system

Oil-jet piston cooling

PCV-integrated rocker covers

"Saw-cut" exhaust manifolds

Cooling system, humidity sensor and more
Small Block legacy
The first Small Block V-8 was introduced in 1955 - a 4.3L V-8 that was an option in the Suburban. It was rated at 145 horsepower and 238 lb.-ft. of torque. Sixty years later, the new EcoTec3 5.3L Small Block produces 245 percent more horsepower and 61 percent more torque from only 23 percent greater engine displacement.
The new 5.3L is built on a foundation of more than 100 million Small Block engines and four generations that came before it. Engines based on the architecture are typically smaller and lighter than competitors' engines with overhead camshafts, and typically have lower friction - attributes that can enhance efficiency.
Safety
The all-new
2015 Chevrolet Tahoe
comes equipped with new safety features that provide a peace of mind to McHenry-area drivers. It
incorporates new technologies - including radar - that contributes to 360 degrees of crash avoidance and occupant protection. Standard and available features include forward collision alert, front park assist, lane departure warning, lane change assist, rear cross traffic alert and adaptive cruise control. Chevrolet's Safety Alert Seat is available and offers directional vibrations to alert the driver about potential crash threats.
The Tahoe offers the segment's only front-seat center air bag (bucket-seat model), which is engineered to provide additional protection for drivers and front passengers in far-side impact crashes, where the affected occupant is on the opposite, non-struck side of the vehicle.
The SUV also has been designed with greater security features to thwart theft attempts, including available window break in or glass-break, vertical-movement and interior movement sensors. Along with triggering the vehicle's alarm system, some of the features shut down key control systems to make it almost impossible to start or move the vehicle. Additionally, there are improvements to the door cylinder, including a more robust lock cylinder, as well as, shields to prevent slim jimmying.